AGL Loy Yang Traralgon International
Singles and Doubles Champions crowned at the 2022 AGL Loy Yang Traralgon Junior International
The 2022 AGL Loy Yang Traralgon Junior International is now complete.
Congratulations to our singles and doubles champions that now add their names to the great honour board of past winners here at the Traralgon Tennis Association.  Well done to all the players that have travelled from all around the world to compete in the event this year.  Good luck at the Australian Open Junior Championships in Melbourne and we hope many of you take so many great memories from your time here in Traralgon.
Boys Singles Final
[2] Mili POLJICAK (CRO) def. [6] Edas BUTVILAS (LTU) 5-7 6-3 6-3
Girls Singles Final
[7] Sofia COSTOULAS (BEL) def. [16] Kayla CROSS (CAN) 6-4 6-2
Boys Doubles Final
[1] Edas BUTVILAS (LTU) / Mili POLJICAK (CRO) def. [2] Bruno KUZUHARA (USA) / Coleman WONG (HKG) 5-7 6-2 [10-4]
Girls Doubles Final
[4] Kayla CROSS (CAN) / Victoria MBOKO (CAN) def. [8] Mia KUPRES (CAN) / Ranah STOIBER (GBR) 6-3 4-6 [10-6]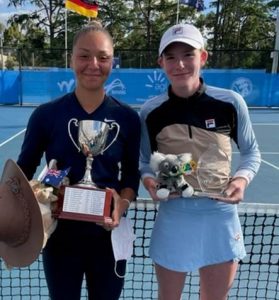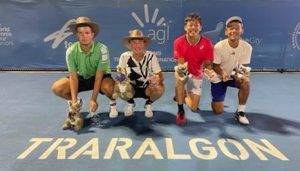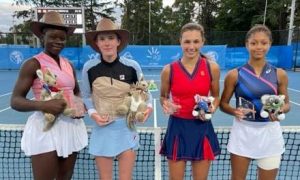 Our  AGL Loy Yang Traralgon International is proudly sponsored by AGL Loy Yang, with major supporting sponsors being State Government Victoria and Latrobe City.  These sponsors along with many local businesses including Pro Rent, Turnbulls Hire and Schnitz are integral to keeping this much loved event in our town.