Twilight Tennis Is Very Proudly Sponsored By:
G J And F L Cameron Plumbing Pty Ltd
McCulloch Plumbing Pty Ltd
Our Summer Twilight Tennis is starting the week commencing Monday January 31, 2022
Names are now being taken to play.
Tennis is a wonderful sport which has social distancing inbuilt into it.  All games are organised in  a safe way enabling players to get some outdoor physical exercise.
All standards are catered for.
Please click on the link below for further information
MONDAY Section 2 mixed doubles
TUESDAY Section 1 and Section 2 Singles
WEDNESDAY Section 2 mixed doubles
THURSDAY Section 1 Doubles and Section 3 Mixed Doubles
Mixed teams consist of 4 players, 2 Men and 2 Ladies and players play three, 6 game sets.
Section 1 doubles teams consist of four players and play three, 6 game sets.
Singles teams consist of two players and play a singles and doubles match to 8
Play commences at 6.30pm.
All Twilight Tennis Players are required to become Members of the Traralgon Tennis Association.
Team or Individual Entries are welcome.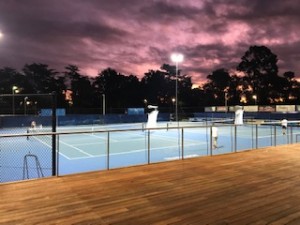 Please email Susie on sec@traralgontennis.com  OR CALL 0448 551 610 for further information.
---