Twilight Tennis Is Very Proudly Sponsored By:
G J And F L Cameron Plumbing Pty Ltd
McCulloch Plumbing Pty Ltd
The Traralgon Tennis Association runs Twilight Tennis Comps throughout the year.
The Summer Season runs from February through to Early May.
The Spring Season runs from September through to Early December.
Night Tennis is played from Monday through to Thursday evenings.
MONDAY SECTION 2 mixed doubles
TUESDAY SECTION 1 SINGLES
WEDNESDAY SECTION 2 mixed doubles
THURSDAY SECTION 3 mixed doubles and Section 1  Doubles
Mixed teams consist of 4 players, 2 Men and 2 Ladies and players play three, 6 game sets.
Section 1 doubles teams consist of four players and play three, 6 game sets.
Singles teams consist of two players and play a singles and doubles match to 8
Mid Year Comps run from late May through to early August.
Play commences at 6.30pm.
All Twilight Tennis Players are required to become Members of the Traralgon Tennis Association.
Team or Individual Entries are welcome.
**THERE ARE NO COMPS RUNNING AT PRESENT DUE TO COVID19 RESTRICTIONS, OUR MID YEAR COMPS WILL HOPEFULLY COMMENCE IN JUNE
Draws, Results and Ladders can be found at
www.tennisscores.net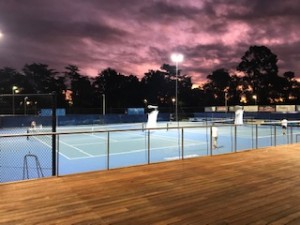 Please email Susie on sec@traralgontennis.com  OR CALL 0448 551 610 for further information.
---